ISC Penn Hudson Advisory
ISC Penn Hudson is a leading advisory firm in our industry offering guidance to companies dealing with macro issues and opportunities that impact their businesses. With deep insight, knowledge and experience across the window, door and glass industries, ISC Penn Hudson can help evaluate or develop your plan to identify the best opportunities for growth and profitability using our proprietary platform, Test Drive. We will help you to pinpoint what matters most and give you the necessary tools to make hard decisions when faced with challenging situations.

Test Drive
The Test Drive platform is an integrated system of analysis based on years of providing advice in complex and demanding situations. It brings key drivers of a company into focus and integrates them in a user-friendly way that improves performance, enhances decision-making and results in events having a higher probability of success.
Test Driving connotes our using the Test Drive platform interactively with management and key stakeholders. Clients can experiment with different ways of running a company, selecting the approaches that might work best and doing so with a higher degree of confidence. This highly flexible, forecast-based system addresses five areas of corporate finance. The system's modules are structured to focus on relationships between key drivers of performance: growth, margin, investment and return. Individual modules contain certain unique types of inquiry, but the integrated design of the Test Drive platform ensures that all modules are accessible in any specific engagement. All modules point to events. Events are outcomes segregated into Revitalize, Rebalance, Refinance, Redeploy and Reimagine. Depending on the situation, these events have different applications depending on the circumstances.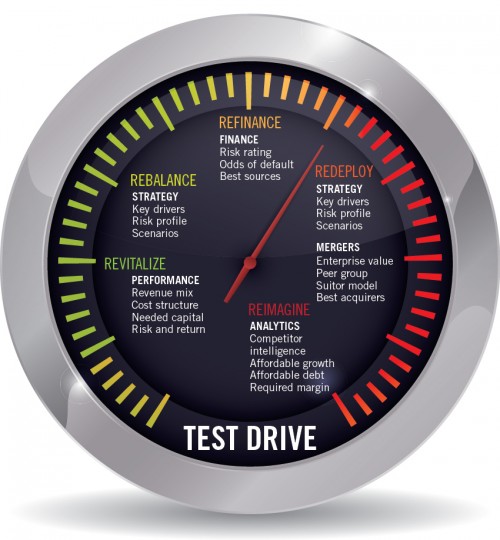 Test Drive is comprised of five modules – Strategy, Performance, Financing, Mergers and Analytics.
Advisory Success Stories
Corporate Strategy, Performance Optimization, Financing and Merger projects completed by us include: